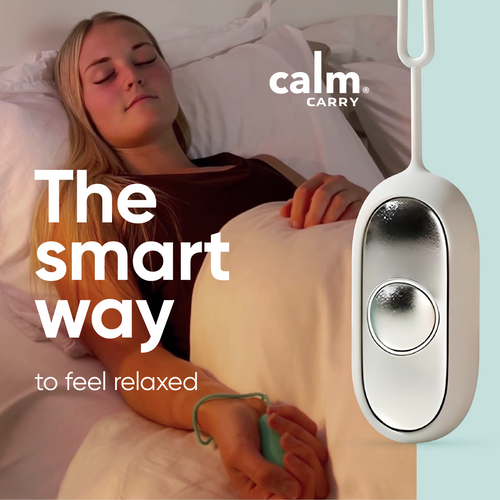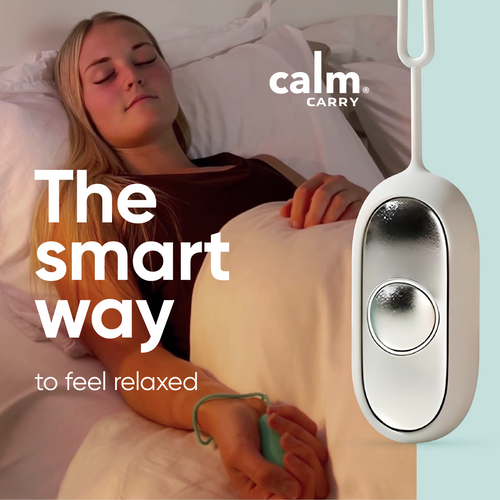 How to use your CalmCarry® Device
Thank-You For Purchasing Calmcarry & Welcome to the Glowco Family! 🌟
A Message from Our Founder, Mason:
Hey there,
First and foremost, thank you for bringing CalmCarry into your life. I founded GlowCo with a single, burning mission in mind: to help people just like you and me find a little more peace in our everyday lives.
Living with anxiety, depression, insomnia, and stress isn't just a line in a brochure for us; it's a daily reality. I've walked that path, and I understand the weight of it. That's why every CalmCarry device isn't just a product; it's a promise from one friend to another.
And always remember, you're not just a customer here; you're part of the GlowCo family. If ever the weight gets too much, or if you just need someone to talk to, our compassionate team is always an email away. We're in this together, and we're here for you.
With all my warmth and gratitude,
Mason 💖
Prefer a video guide? Click here!
The Power of CalmCarry: CalmCarry is your personal ally against various mental health challenges:
Anxiety: Experience a steady, calming influence, actively reducing feelings of unrest and worry.
Stress: Let daily pressures melt away with the soothing microcurrent therapy.
Insomnia: Induce restful sleep by targeting pressure points, ensuring serene nights.
Depression: While not a substitute for medical therapy, many users report an enhanced sense of well-being with regular use.
Unboxing CalmCarry:
What's Inside: Unpack your CalmCarry device, a USB charging cable, and an introduction card. Scan the QR code on the card for our comprehensive online instructional manual.
Charge It Up: Before you start, ensure your CalmCarry is powered. Connect the provided USB cable and charge for 60 minutes. Avoid charging for more than 60 minutes as it may damage the battery..
Turning It On: Press the power button and you will see the lights illuminate in the buttons. By default, it starts in the low-frequency mode designed for stress and anxiety relief.
Positioning is Key: To unlock its full potential, place CalmCarry on the specific acupuncture point called Neiguan PC8 and the triple warmer meridian TW3/TW2. Proper positioning is crucial for effective results. The gentle microcurrent pulse you'll feel activates the triple warmer meridian, aiding in mental relaxation. (See the below image for correct placement in hand)
Finding Your Pulse: You'll feel a gentle microcurrent pulse. When correctly positioned on your hand, this pulse activates the triple warmer meridian and acupuncture points, helping to balance your energy. Don't panic if the sensation feels unfamiliar. CalmCarry is a harmless yet effective tool. Adjust using the + button if needed, ensuring it feels comfortable.
Adjusting Intensity: Can't feel the pulses? Press the + button a few times. Find a comfortable intensity for yourself.
Time to Relax: CalmCarry features a 20-minute automatic locker, so you can drift to sleep without concerns about turning it off.
 When to Use CalmCarry:
Daytime Use: Whenever you feel the weight of the world on your shoulders, or anxiety starts to peak, CalmCarry is here to help. Use it during the day for a calming influence, actively reducing feelings of stress and anxiety, ensuring you stay centered.
Nighttime Use: Battling with sleeplessness? Let CalmCarry be your nighttime companion. Specifically designed to counter insomnia, its microcurrent therapy helps induce restful sleep, ensuring you wake up refreshed and rejuvenated.
Safety First: While CalmCarry is a boon for many, it's essential to note that if you have a pacemaker or any other electronic medical devices fitted, it's recommended not to use CalmCarry. Furthermore, the device is not suitable for children under the age of 6.
With the right precautions and proper use, CalmCarry aims to be your trusted partner in mental well-being.
For visual learners, we've included a video presentation by Madeline, one of CalmCarry's representatives and a long-time user. She'll guide you through each step, ensuring a smooth experience.
Click here to watch the video!
And remember, give CalmCarry a chance. It's a harmless yet effective tool in managing anxiety, depression, stress, and insomnia.
With all our love and support, The GlowCo Team 💕
Legal Disclaimer:
GLOWCO INTERNATIONAL PTY.LTD. offers the CalmCarry device with the intention of enhancing user well-being. While the device is generally considered harmless, it's crucial to approach its use with mindfulness and safety in mind.
Note: The CalmCarry device may contain small parts that could present a choking hazard for children. We advise close supervision when children are around or using the device.
Individuals with specific health conditions, especially those related to seizures or epilepsy, should consult their healthcare professional before using CalmCarry as a precaution.
By purchasing and using the CalmCarry device, you acknowledge and understand this advisory information. Moreover, you agree to use the product responsibly and acknowledge that GLOWCO INTERNATIONAL PTY.LTD. will not be held liable for any adverse effects or consequences resulting from its use.
We value your trust and encourage you to always prioritize safety. This disclaimer is meant to foster informed and safe use of the CalmCarry device.